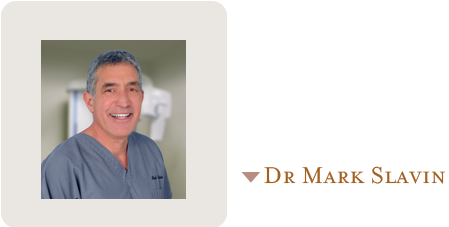 Dr. Mark Slavin is a native of Utica, New York who obtained his undergraduate degree Magna Cum Laude from Union College, his doctorate from Georgetown University and his General Practice Residency certificate from St. Joseph's Hospital in Syracuse. A certificate in the diagnosis and treatment of Temporomandibular Joint Dysfunction was obtained from The University of Medicine and Dentistry of New Jersey.
A third generation general dentist, Dr. Slavin holds his professional heritage as a source of great pride and inspiration. He strives daily to maintain the highest standards of integrity, patient commitment and professional care that were the hallmarks of his father's dental career.
Dr. Slavin is enthusiastic about the benefits of General Dentistry and has a great passion for the dental services he offers.
Sleep Apnea sufferers benefit from Dr.Slavin's expertise in treatment of this common, often undiagnosed medical condition. Sleep Apnea involves repeated cessation of breathing during sleep and can lead to very serious cardiovascular, GI and psycho-social consequences. Symptoms are often limited to snoring and excessive day-time sleepiness. Once diagnosed at a sleep center, implementation of a Continuous Positive Air Pressure (CPAP) machine is often recommended. Though CPAP machines are usually effective, many individuals are unwilling to initiate CPAP therapy or find it uncomfortable, cumbersome or inconvenient. For these patients, treatment with an oral appliance has been shown to be an easily tolerated, effective alternative.
Dr. Slavin was recently granted Diplomate status by the American Academy of Dental Sleep Medicine.
Dr. Slavin is a member of the following organizations:
Fifth District Dental Society; 5th District Dental Society Claims Committee; Past President of Oneida-Herkimer County Dental Society; New York State Dental Society; American Dental Association; Past Representative Council on Government Affairs 5th District; Temporomandibular Joint Alumni Society of the University of Medicine and Dentistry of New Jersey; Northeast Cardiomandibular Society; International Association for Orthodontics; American Academy of Dental Sleep Medicine; National Sleep Foundation.